Onpoint News – June 2015
1. Client Spotlight: The Health Collaborative

2. APCD Development Efforts Intensify: States' Legislative Endeavors

3. Lessons in Health Reform from Across the Nation: Insights from Clinical Advisor Dr. Lisa Dulsky Watkins

4. Milbank Examines States' Total Cost of Care Reform Efforts

5. Growing Portland Collaborative Seeks to Build Maine-Based Health Informatics Hub



Client Spotlight: The Health Collaborative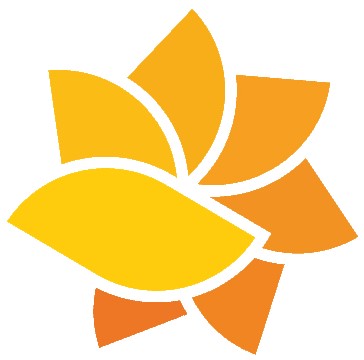 As healthcare costs continue to rise, health reform initiatives across the country are working diligently to achieve the Triple Aim – (1) improve the patient's experience of care, (2) improve the health of populations, and (3) reduce the per-capita cost of healthcare. One promising approach: providing population-based management fees and shared savings opportunities to primary care practices in an effort to improve the efficiency and efficacy of healthcare delivery.

An early front-runner of this movement is the Health Collaborative with its Comprehensive Primary Care (CPC) initiative funded by the Center for Medicare & Medicaid Innovation (CMMI) at the U.S. Centers for Medicare & Medicaid Services (CMS). Established in 1992, the Health Collaborative brings together regional stakeholders – health plans, health systems, private providers, community organizations, and consumers – to develop a connected system focused on transparency and accountability. The ultimate goal of their work: improving the public's health status, experience, outcomes, and affordability across healthcare settings.

Most recently, the Health Collaborative has been working on several interconnected projects aimed at transforming the Greater Cincinnati region's healthcare delivery system in order to change how the community perceives and receives its health services. Their multifaceted approach includes actively managing and facilitating smooth transitions of care from one venue to another (from a hospital to a rehabilitation center to home care, for example), leading quality and cost transparency efforts across physician groups and hospitals, and addressing overall population health by identifying non-traditional drivers of health status and healthcare across the region.

One of the Health Collaborative's major undertakings is its CPC initiative, which serves 75 primary care practices representing more than 250 physicians, bridging counties in southwest Ohio with those in northcentral Kentucky. After soliciting interest from payers nationally, the CMMI selected the Cincinnati-Dayton region in April 2012 as one of its seven CPC sites. Since then, the Ohio-Kentucky CPC initiative, convened and led by the Health Collaborative, has quickly become the demonstration's leader in fostering collaboration between public and private healthcare payers to strengthen primary care.

The five comprehensive primary care functions exhibited by the initiative include: (1) providing greater access and continuity to care, (2) developing team-based approaches and personalized plans of care to effectively meet patients' needs, (3) implementing risk-stratified care management for patients with high needs, (4) engaging patients and their families across all aspects of care, and (5) working with patients and providers to better coordinate and manage care experiences.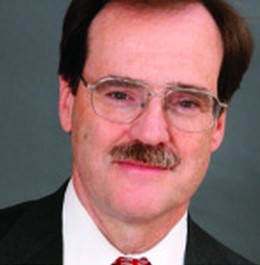 Dr. Richard Shonk, the Health Collaborative's Chief Medical Officer (CMO), notes that individual payers began noticing significant, constructive results in their data soon after the initiative's launch in 2012. While the positive results for individual payers were reassuring to the initiative and its overarching vision, Dr. Shonk reinforced the essential need to evaluate whether the project's approach could also produce positive results at an aggregate level across all participating payers. "Although each individual payer could see their own slice of the data, and that data was indicating exciting results, what we really needed was a more systematic approach to determine whether individual practices were performing and reaching the outlined functions of the comprehensive primary care model."
To guide its efforts in creating this critical resource for evaluating overall program effectiveness, the Health Collaborative is partnering with Onpoint Health Data to build a "Shared Data Platform." This cross-payer database, which opened its doors this month (May 2015), begins with data collection and integration followed by performance measure production and reporting by Onpoint. The reporting will inform providers and other key stakeholders on how healthcare is being delivered across the region from a utilization, cost, and quality perspective. The initiative's focus on expanding transparency and accountability across the region's participating primary care practices is one of the most exciting parts of the project, says Dr. Shonk.

With more than a decade's experience as a primary care physician, Dr. Shonk is hopeful that the initiative's comprehensive functions and Shared Data Platform will make the life of a practicing primary care physician a little easier. "It's no secret that there's a shortage of primary care physicians, mainly because we've created a job over the years that physicians no longer want to do. With the fee-for-service model, physicians feel like they're constantly running on a treadmill," he notes.

The Cincinnati-Dayton region's payment reform efforts "will begin to pay primary care physicians to provide a more universal oversight of healthcare instead of simply taking care of the next sore throat or high blood pressure patient. In other words, physicians will be getting back to the kind of work they were trained for as healthcare professionals with the implementation of a value-based payment system."

Given the program's promising results to date, participating payers have been advocating for the expansion of the project's approach beyond its defined region. With this month's launch of the Shared Data Platform, that effort – and the study of overall cross-payer dividends – begins. Stay tuned for future updates on the Health Collaborative's ongoing efforts to build a regional culture of team-based care coordination and payment transformation.
APCD Development Efforts Intensify: States' Legislative Endeavors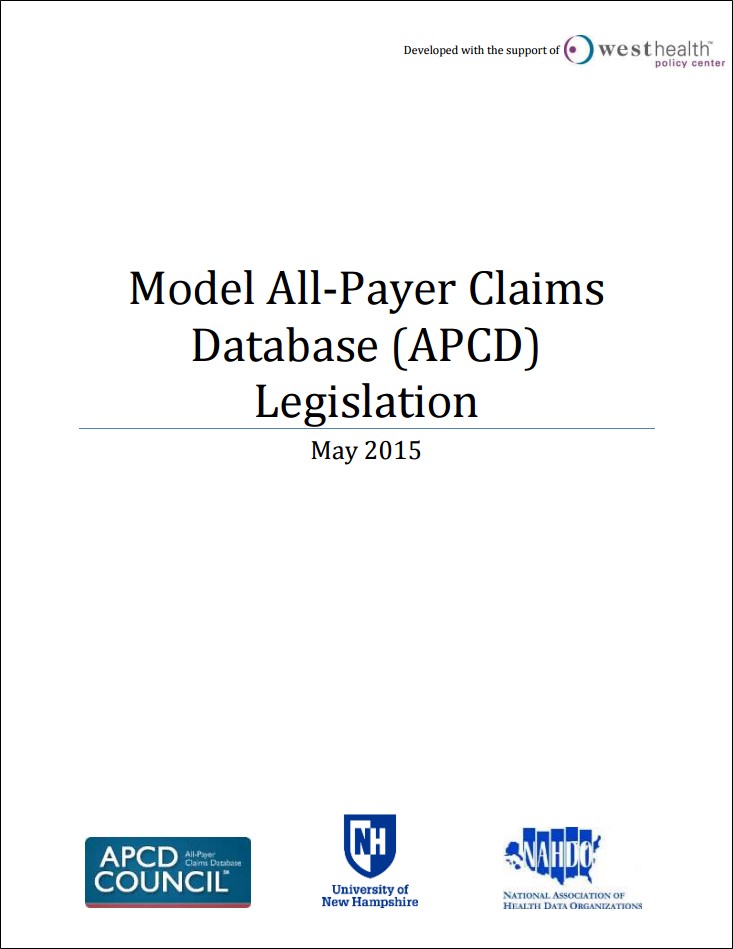 The APCD Council, with support from the Gary and Mary West Health Policy Center, has created model legislation guidance for states interested in developing all-payer claims database (APCD) programs. The document, which is based on a review of existing APCD legislation in 15 states, offers template language across key legislation sections for states to modify to reflect the specific intent and design of their prospective APCD programs and existing laws. To learn more about the "Model APCD Legislation" manual, please click here.

Reflecting the continued, strong interest on the part of state governments in building a unified data resource that supports important policy and program information needs, here are a few of the most recent legislative endeavors taken by states to establish APCD programs.

ARKANSAS

The state of Arkansas recently passed the Arkansas Healthcare Transparency Initiative of 2015 with the approval of Senate Bill 956, which became Act 1233 in April. The act will officially create a statewide APCD program in an effort to identify and explore key healthcare issues, questions, and challenges in the state that can be improved through more transparent information.

KENTUCKY

In October 2014, more than 60 leaders in Kentucky government, business, policy, and healthcare were convened by the Foundation for a Healthy Kentucky to discuss statewide strategies to increase healthcare price transparency. A large portion of the discussion focused on the use and value of an APCD program in achieving its transparency goals. The Kentucky legislature has conducted studies on the possibility of enacting APCD legislation before (2013), although no bills are currently pending on the topic.

NEW MEXICO

Since the end of the 2015 legislative session, several health-related bills have been signed by New Mexico governor Susana Martinez. Of those bills, Senate Bill 323 — "Safe Disclosure of Certain Health Information" — has received the most attention for its goal of establishing a website where consumers can compare the cost of medical procedures at various hospitals around the state.

To inform the planned website, SB-323 envisions the construction of a "health information system" designed to advance the state's efforts in collecting, analyzing, and disseminating health information. The end goals: assisting (a) the state's performance of health planning and policymaking functions, (b) consumers in making informed health-related decisions, and (c) administrators in evaluating a statewide health plan.

Unfortunately, SB-578 – "All-Payer Claims Database Act"— which would have established a statewide APCD program, was postponed indefinitely by lawmakers at their legislative session in March.

OREGON

Oregon Senate president Peter Courtney recently killed a price transparency effort — Senate Bill 891 — that would have required healthcare facilities in the state to publish online the billed charges for the 100 most common inpatient and outpatient services paid by health insurers, Medicare, Medicaid, the school districts, and state employees.

Another measure still in committee – SB-900 – would similarly develop a consumer website for the posting of healthcare price data for the state's most common inpatient and outpatient hospital services. However, unlike SB-891 which would have forced the state's healthcare facilities to independently publish online the billed charges for their healthcare services, providing their patients with an estimate of charges for a procedure (including all physician and facility fees), SB-900 would require the Oregon Health Authority to post the price information on the facilities' behalf.

WASHINGTON

With strong support from the state's businesses, healthcare providers, and patient organizations, Washington governor Jay Inslee signed legislation to establish a fully functional APCD program. Senate Bill 5084 will build on the state's current APCD program, making it a requirement for all health insurers to submit their data. (Currently, participation in Washington's APCD is voluntary.) With the expanded transparency bill, Washington also is planning to collect financial information in its APCD, which will allow for analyses about healthcare value — a feature not broadly available with the state's existing voluntary design.
Lessons in Health Reform from Across the Nation: Insights from Clinical Advisor Dr. Lisa Dulsky Watkins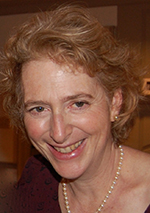 Lisa Dulsky Watkins, MD, Onpoint's clinical advisor and director of the Multi-State Collaborative at the Milbank Memorial Fund, Jenney Samuelson, MS, assistant director of the Vermont Blueprint for Health, and members of Onpoint's analytics team recently joined forces to host a breakout session on "Primary Care Transformation: Lessons from Across the Nation" at the Maine Quality Counts 2015 Conference. In recapping the presentation, Dr. Dulsky Watkins has provided the following highlights around health policy reform based on actionable data from her experience leading a multi-state advanced primary care collaborative with the Milbank.
How can multi-payer primary care initiatives help reverse some of the key drivers of spending growth and poor health/healthcare quality?

Multi-payer primary care initiatives have, at their core, goals that align with each of the dimensions outlined in the Triple Aim: (1) improving the patient experience of care (including quality and satisfaction), (2) improving the health of populations, and (3) reducing the per capita cost of healthcare. By providing patient-centered, team-based coordinated care that can be readily accessed, illness potentially can be better treated or even prevented. Doing so should, in turn, help reverse spending growth significantly.

How can reliable, meaningful data be accessed and interpreted to drive transformative, sustainable changes in healthcare systems across local communities?

In order for multi-payer primary care initiatives to function both effectively and efficiently, they need reliable, timely, available, and actionable information. Put another way, we cannot learn from experience unless we can measure and interpret it. Collecting data reliably and consistently, then cleaning and analyzing it, and finally being able to understand, share, and use it, brings everything to a higher level. This very process sets the stage for "sustainable changes in healthcare systems across local communities" only if such information is shared broadly and acted upon.

Dr. Dulsky Watkins' work as a multi-state convener for the Milbank Memorial fund, in which she acts as an advocate for new and continued support for health system and payment innovation at the state and federal levels, and especially for multi-payer advanced primary care initiatives, ties in nicely with some of the Milbank's recent reform-focused projects. To learn more about the Milbank's new study on cross-state total cost of care reform efforts, for example, read our featured article by clicking here.
Milbank Examines States' Total Cost of Care Reform Efforts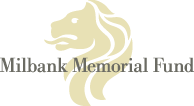 Interested in getting a cross-state look at how government leaders are tackling the challenge of rising healthcare costs and outdated modes of delivery? A new report from the Milbank Memorial Fund — "State Models for Health Care Cost Measurement: A Policy and Operational Framework" — offers
a view of such efforts across four states. The report examines how government-led "policy pioneers" from Maryland, Massachusetts, Oregon, and Vermont are identifying and addressing healthcare costs as one of the key reform drivers of improving the quality of their communities' health and healthcare systems across all payers and populations.

The report details how each of these states is using policy levers to set sustainable levels of cost growth by developing comprehensive, statewide strategies related to the measurement of the "total cost of care" (TCOC). The report notes that two primary strategies are being leveraged by their efforts: (1) payment reforms aligned with TCOC measures and (2) performance transparency reporting that include TCOC measures. A number of other complementary goals are also discussed, including using strategies to reduce cost shifting among payers and price variation among providers.

Also addressed: the governance and authority challenges (e.g., legal or legislative difficulties) and key policy and operational activities (e.g., definitions of scope, methodologies, applications, and data sources) that they have had to handle in order to implement TCOC measures effectively. Although each of the states has fine-tuned their TCOC strategies to target their varying reform goals, the report notes that all have faced similar legislative and operational issues throughout their implementation phases.

After briefly highlighting some future policy considerations that could help these "policy pioneers" achieve their ultimate TCOC goals, the Milbank concludes its report by extending it as a kind of framework for other states interested in building the operational and technical capabilities to implement total cost of care as part of their reform efforts.
Growing Portland Collaborative Seeks to Build Maine-Based Health Informatics Hub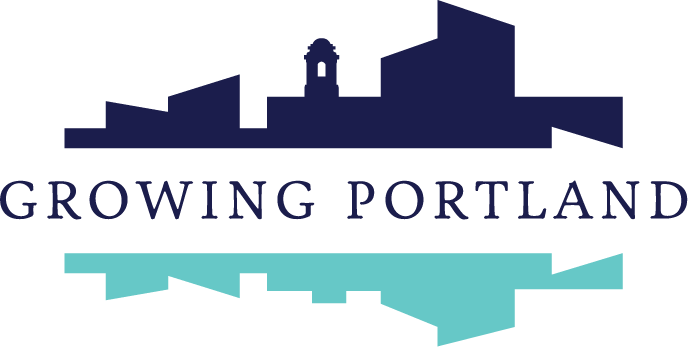 A recently released report has taken notice of an emerging strength in Onpoint's home state of Maine: an expanding market niche in health informatics — "the use of data to inform and improve healthcare quality, cost, and risk decisions." The report, titled "The Health Informatics Assessment Project" (HIAP), is aimed at highlighting the ongoing development of a deep talent pool of health informatics specialists in the state, with an immediate focus on the state's largest city, Portland.

The Growing Portland collaborative, a public-private partnership supported by the University of Southern Maine's Muskie School of Public Service, released the report last month after studying and researching the expertise, experience, and bandwidth of more than 50 participating healthcare organizations located in Maine — spanning higher education institutions, consulting businesses, hospitals, insurance agencies, and data management and analytics firms, including Onpoint Health Data.

The report's findings suggest that bringing together Maine's health informatics industry could place the state in a strategic position to attract additional talent, spur investments, and strengthen collaboration. The ultimate result: augmented capacity to access and interpret meaningful data, driving transformative, sustainable changes in healthcare systems across geographic boundaries.


Recent Onpoint Newsletters