Onpoint News – August 2015
1. Client Spotlight: Minnesota Department of Health (MDH)

2. Onpoint Achieves QECP Security Compliance

3. Onpoint's Clinical Advisor Talks Multi-Payer Reform

4. Getting Ready to Ring the ICD-10 Starting Bell!

5. Join Us at NAHDO's 30th Anniversary Meeting
6. Onpoint Revolution Cycles Across Maine in Support of the American Lung Association
Client Spotlight: Minnesota Department of Health
Addressing the three dimensions of the Triple Aim – (1) improving the patient's experience of care, (2) improving the health of populations, and (3) reducing the per-capita cost of healthcare – is a challenge familiar to health reform initiatives across the country. With healthcare spending in the United States representing a growing and unsustainable share of the economy – projected to hit $3.2 trillion in 2015, according to the U.S. Centers for Medicare & Medicaid Services (CMS) – it is critical that reform activities understand and illuminate the key drivers of spending growth, using data to drive transformative and sustainable changes across systems of healthcare.
The State of Minnesota is a pioneer when it comes to turning data into actionable analysis. Leveraging the data from its statewide all-payer claims database (MN APCD), developed and operated by Onpoint since 2009, Minnesota is able to drill into the issues driving the cost of healthcare.
Despite having one of the nation's most efficient and cost-effective healthcare systems, Minnesota still must allocate a large share of its economy to maintaining its healthcare-related services and resources. In 2012, the state spent $39.8 billion (13.5 percent of its economy) on such activities – and that number is expected to nearly double by 2022, according to the Minnesota Department of Health (MDH). To curtail the looming affordability challenges for individual consumers, businesses, and other healthcare purchasers, the Legislature recently expanded the authority of the MDH to use the MN APCD for a select number of analytic projects that will investigate the state's healthcare system to identify possible improvements.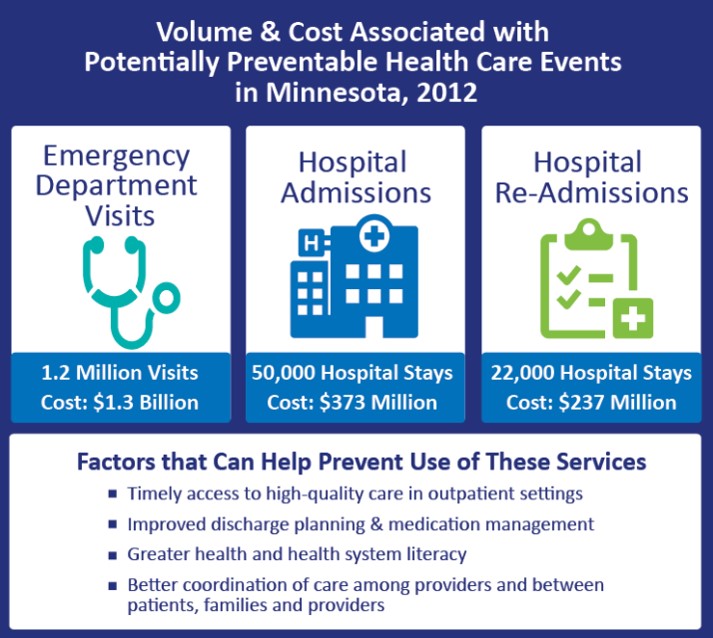 Among the most recent analyses undertaken by the MDH Health Economics Program is an examination of emergency department (ED) visits and hospital admissions and re-admissions in order to identify potentially preventable healthcare events. The MDH's newly published report "marks the first time [the MDH and state leaders] have been able to conduct a comprehensive empirical exploration of the volume of potentially preventable health care events in Minnesota and their associated cost."
The report, "An Introductory Analysis of Potentially Preventable Health Care Events in Minnesota," found that Minnesotans experienced an estimated 1.3 million potentially preventable healthcare events in 2012. This volume of potentially preventable services cost private payers and taxpayers approximately $1.9 billion — roughly 4.8 percent of the state's total healthcare spending in 2012. (It's important to note that "this volume of spending does not, however, represent real potential savings because not all identified events were actually clinically preventable – on average, cases might be preventable, but individual patient circumstances might make care necessary," according to the report.)
Below is a summarized look at Minnesota's potentially preventable outcomes in 2012 by type of healthcare event:
Emergency room visits: 67 percent of all hospital emergency room visits were potentially preventable, totaling approximately $1.3 billion in healthcare spending.
Hospital admissions: 10.6 percent of all hospital admissions were potentially preventable, consuming approximately $373 million in healthcare spending.
Hospital re-admissions: 4.4 percent of all hospital re-admissions were potentially preventable, accounting for approximately $237 million in healthcare spending.
According to State Health Economist and Director of the Health Economic Program at the MDH, Stefan Gildemeister, MA, the MDH's findings will lead to a more detailed follow-up analysis of health costs in order to try to shift care into lower-acuity settings. Future research efforts aimed at reducing the identified potentially preventable healthcare services will be best focused if "grounded in collaborations with the community, clinical expertise provided by practitioners, and existing delivery system experience with addressing factors associated with potentially preventable health care events," the report concludes.
Continue Exploring:
Onpoint Achieves QECP Security Compliance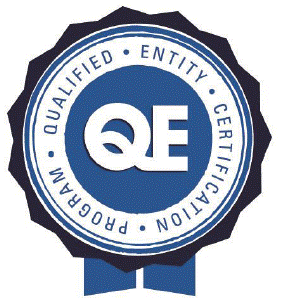 Onpoint is excited to announce that we have officially achieved security compliance from the U.S. Centers for Medicare & Medicaid Services (CMS) through its rigorous Qualified Entity Certification Program (QECP) to support our APCD clients.
The Affordable Care Act of 2010 allows standardized extracts of Medicare claims data under Parts A, B, and D to be made available to Qualified Entities (QEs) for the purpose of measuring healthcare provider and supplier performance. The QECP process was developed to facilitate this transfer and enable CMS to easily certify and monitor all QEs.
To become certified as a QE and begin receiving 100-percent identifiable claims data under the QE data use agreement, applicants must successfully complete an exacting data security compliance process involving a comprehensive set of guidelines and requirements to ensure the privacy and confidentiality of Medicare beneficiaries' claims data. In addition to inventorying and scanning information systems for Advanced Persistent Threat (APT), applicants must follow the National Institute of Standards and Technology (NIST) Special Publication 800-53, "Security and Privacy Controls for Federal Information Systems and Organizations," which includes the review and fulfillment of more than 200 security controls.
As reform initiatives across the country increasingly turn to APCD data for their healthcare transformation initiatives, the importance of keeping that data secure has never been more critical. Onpoint has always put the highest priority on data security, serving not only as data aggregator for hundreds of commercial and government payer submitters across the country but also as the designated Custodian for Medicare data on behalf of multiple clients. Onpoint's QECP security compliance is part of our ongoing commitment to maintaining a state-of-the-art information security platform.

Continue Exploring:
Onpoint's Clinical Advisor Talks Multi-Payer Reform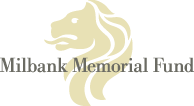 Earlier this summer, the Milbank Memorial Fund – a New York-based foundation working to improve population health by connecting leaders and decision makers with the best available evidence and experience – did just that. In June, it brought together leaders from the government's Center for Medicare & Medicaid Innovation (CMMI) with a number of the payers – Medicare, Medicaid, and commercial plans alike – involved in the Comprehensive Primary Care (CPC) initiative to discuss advances in multi-payer reform. Helping facilitate this meeting was Lisa Dulsky Watkins, MD, Onpoint's clinical advisor and director of the Multi-State Collaborative at the Fund.
The Fund's meeting was a follow-up to a session which they also convened earlier this year at which CMS announced positive (albeit modest) first-year findings from its CPC initiative and Multi-payer Primary Care Practice (MAPCP) demonstration. This summer's follow-up meeting was a chance for participants in the CPC initiative to share information, observations, and outcomes after having six months to synthesize and examine CMS's first annual reports on the subject.
"This was a broader sharing of information than at the first meeting," comments Dulsky Watkins in a recent Milbank report. Participating payers were given the floor to address the dimensions of multi-payer alignment within the CPC model that have been effective so far – and to discuss those that could be adjusted in transforming primary care service delivery and payment processes.
Bringing together payers for face-to-face meetings to share and compare notes can yield fruitful discussions about methodologies and lessons learned – something the Fund, a nationally recognized convener of healthcare leaders and decision makers, knows well. The Fund also recognizes that sharing program results after only a year-and-a-half of activity is unrealistic, a challenge also noted in CMS's first annual reports. To date, while some of the smaller payers involved in CPC initiatives are already showing cost savings and quality improvement, some of the larger payers still don't have results to share.
In a June 2015 Issue Brief by Rocky Mountain Health Plans, Dulsky Watkins explains that "it's taken a while to get information that helps us learn about whether these programs are working." If transformative and sustainable changes across systems of healthcare – and the evaluation of those changes' effectiveness in positively impacting patients, standards, and practices – are going to be driven by accessing and interpreting meaningful data, notes Dulsky Watkins, then it's necessary for that data to first be collected and made available.
But fear not, she advises: "This is something the Multi-State Collaborative has been saying all along: Standard evaluation periods are much too short." Giving multi-payer reform programs like the CPC initiative ample time – five to 10 years, for example – to sufficiently collect and use the data will give future evaluations more credible evidence to judge.
"What is the connection between the intervention and its impact on value? It may take a while to get it, but there has to be an answer," adds Dulsky Watkins in the June 2015 brief. "Appropriate evaluation happens only when an initiative is given enough time to succeed or fail."
Getting Ready to Ring the ICD-10 Starting Bell
As the nation's healthcare community – providers, health plans, and others – continues to await October's ICD-10 start date, Onpoint is here to help submitters as they prepare to report ICD-10's more-detailed code sets for our clients' data collection programs. Since collection specifications vary by client, so does our approach: While some file layouts include a separate ICD version indicator, others (for collections whose layouts have been locked down by legislative and other restrictions) have been adjusted to collect the needed version information within a pre-existing field. (Using the latter approach, this new ICD version indicator, which applies to all ICD diagnosis and procedure codes in a record, is now being collected from our Minnesota and Vermont APCD submitters who are ready for testing.)
For those less familiar with the much-anticipated compliance deadline, the ICD-10 transition is required for any organization covered by the Health Insurance Portability and Accountability Act (HIPAA). While many industrialized nations have already moved from the ICD-9 to the ICD-10 code sets, the United States is finally getting ready to make the shift after postponing last year's planned October start date. Barring any last-minute change, the official U.S. compliance date is October 1, 2015.
With this transition, the World Health Organization (WHO) – the institution responsible for the code sets' modification and implementation – is attempting to more precisely define care by capturing clinical details at a much more granular level. Among the important and noteworthy changes:
The new code set consists of two parts: (1) ICD-10-CM diagnosis coding, which will be used for all U.S. healthcare settings, and (2) ICD-10-PCS inpatient procedure coding, which is reserved for U.S. hospital settings.
Injuries will be grouped by anatomical location rather than by type of injury.
Codes corresponding to ICD-9-CM V codes (i.e., factors influencing health status and contact with health services) and E codes (i.e., external causes of injury and poisoning) will be incorporated into the main classification rather than separated into supplementary classifications.
New code definitions will be provided to reflect modern medical practice (e.g., the definition of acute myocardial infarction – a heart attack – will now be 4 weeks rather than 8 weeks).
Category restructuring and code reorganization have occurred in a number of ICD-10-CM chapters, resulting in different classifications of certain diseases and disorders.
And, as always, as data submitters prepare to send these new codes to Onpoint, please reach out anytime for assistance or support!
Continue Exploring:
Join Us at NAHDO's 30th Anniversary Meeting

This October, Onpoint will be hitting the road to join the annual conference of the National Association of Health Data Organizations (NAHDO), where we will be taking part in the conversation around the evolving information needs of data consumers and the technical improvements and solutions required to support them. This year's 30th anniversary meeting will reflect on NAHDO's past accomplishments and consider the future of the organization as well as the implications of recent innovations in healthcare database resources, with specific focus on the all-payer claims database (APCD).
Onpoint is proud to help support NAHDO as a sponsor and exhibitor at this year's event in Washington, DC, where industry leaders – from the federal, state, and private sectors – will gather to discuss topics focused on innovative healthcare data collection and reporting. We look forward to connecting with colleagues from around the country to explore some of the latest developments and learn more about NAHDO's important work.
At this year's meeting, Pat Jones, Health Care Project Director for Vermont's Green Mountain Care Board, will be joined by Onpoint Health Services Researcher Amy Kinner, MS, as part of a panel presentation exploring how new technologies are driving system transformation. Jones and Kinner will discuss how unifying performance measurement across an entire population through the intersection of Vermont's two critical healthcare reform initiatives – the Blueprint for Health medical home program and the state's three Accountable Care Organizations participating in Medicare, Medicaid, and/or commercial Shared Savings Programs – will effectively advance the state's care delivery transformation.
Continue Exploring:
Onpoint Revolution Cycles Across Maine in Support of the American Lung Association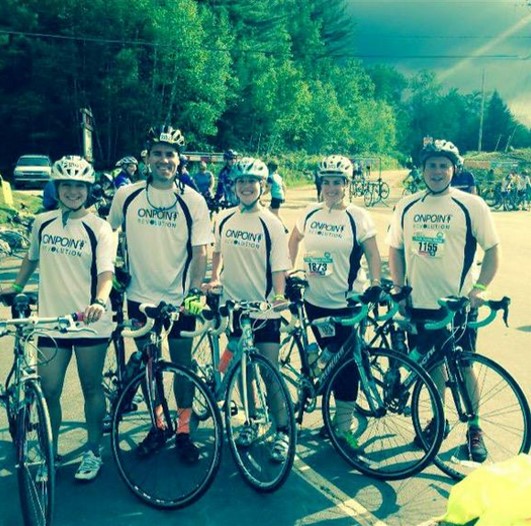 This June, Onpoint's cycling team – Onpoint Revolution – celebrated the Father's Day Weekend by joining in the 2015 Trek Across Maine. The Trek, a three-day, 180-mile cycling event that traverses the state of Maine – from the western mountains of Sunday River to the Belfast coast – is the largest fundraiser of its kind in the nation for the American Lung Association.
Over the past 30 years, the Trek has raised more than $22 million to support the American Lung Association's efforts to save lives by improving lung health and preventing lung disease. This year's event, with 1,622 riding cyclists and 650 registered volunteers has so far collected more than $1.5 million dollars.
The Onpoint Revolution team, which was able to raise $4,000 for this year's event, would like to thank all of our team's donors and supporters for their strong encouragement and motivation. Thanks also go to the entire Trek event team for hosting a truly first-class and memorable experience. Onpoint Revolution will be back in fine form for Trek 2016!
Continue Exploring: