Onpoint News – October 2015
1. New Study of Vermont Blueprint Reveals Improvement in Costs, Utilization, and Quality

2. An Inside Look at Shifting to a Culture of Accountable Care & Transparency

3. New Dartmouth Pediatric Study Leverages Multi-State All-Payer Claims Databases

4. Using HealthPartners' TCOC Measurement System to Drive Insightful Analysis

5. Join Us at NAHDO's 30th Anniversary Meeting

New Study of Vermont Blueprint Reveals Improvement in Costs, Utilization, and Quality

An important new study published in the national journal Population Health Management evaluates the Vermont Blueprint for Health's overall progress in guiding sustainable statewide healthcare delivery reform. The Blueprint, a program recognized for its advances in primary care and systemic healthcare transformation, is an innovative model that connects patients' multiple healthcare providers. These connections, enhanced by community health teams - multidisciplinary teams bridging the medical and non-medical divide - allow better coordinated care while also empowering patients through education and prevention programs. This six-year study, co-authored by Blueprint and Onpoint analysts, demonstrated that patients who received the majority of their primary care in the Blueprint's medical home setting had better expenditure, utilization, and quality outcomes compared to non-Blueprint patients.
The study reviewed annual outcomes from 2008 through 2013 for Blueprint participants versus a comparison population using Vermont's all-payer claims database, the Vermont Health Care Uniform Reporting and Evaluation System (VHCURES). To evaluate the Blueprint's impact by finding the points at which outcomes began to diverge between participant and comparison populations, the study's sample was clustered: Participants were grouped according to when their practices joined the Blueprint, implemented the necessary steps to become certified medical homes, and matured their operations for two years, while the comparison group was randomly assigned to these programmatic stage groups and weighted to match the proportion of participants from each calendar year.
Outcomes included expenditures across all health plans, utilization (e.g., total inpatient discharges, outpatient emergency department visits, specialist visits), relative resource use through an application of the HealthPartners' Total Care Relative Resources Values (TCRRVs), and quality of care represented by delivery of effective and appropriate care based on nationally recognized standards from the National Committee for Quality Assurance such as breast cancer screening, cervical cancer screening, comprehensive diabetes care, and appropriate pediatric care for sore throats and common colds.
Overall, the study revealed that Blueprint patients tended to fare better than non-Blueprint patients across expenditure, utilization, and quality outcomes, with the differences becoming evident as practices matured in the transformation processes fundamental to a patient-centered medical home (PCMH) model. Further drill-down by the authors found that "the difference in medical expenditures was driven by several factors, including lower hospitalization rates and outpatient facility use [for Blueprint practices]" and that, "based on an annualized cost-gain ratio, medical expenditures decreased by approximately $5.8 million for every $1 million spent on the Blueprint initiative."
While these findings are promising for the Blueprint program and the coordinated statewide health services model that Vermont has adopted, the study's authors highlight the importance of providing participating PCMH practices enough time and resources to deepen and refine their methods of delivering advanced primary care and to sufficiently collect and use the data derived from their programs, noting that the outcome differences between the participating and comparison populations occurred steadily as the Blueprint practices matured. The study suggests that effective multi-payer, primary care delivery transformation is a gradual process.
Continue Exploring:
An Inside Look at Shifting to a Culture of Accountable Care & Transparency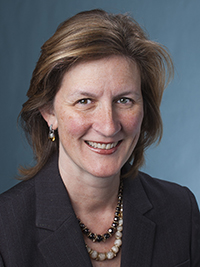 Onpoint is excited to announce that Elizabeth H. Johnson, MD, MS, the CEO of the MMC Physician-Hospital Organization (MMC PHO), has agreed to serve as Chair of our Board of Directors. Dr. Johnson, who has more than 15 years involvement in healthcare leadership and more than 18 years practicing internal medicine, brings strong strategic vision and management in support of value-based, integrated, and patient-centered care to Maine's ever-changing healthcare landscape. She is currently facilitating the MMC PHO's shift to a culture of accountable care and transparency through participation in the Medicare Shared Savings Program (MSSP) offered by the U.S. Centers for Medicare & Medicaid Services (CMS). As CEO of the MMC PHO, wife of Dr. Daniel Soroff, and mother of two sons, Sam and Jake, Dr. Johnson feels a personal commitment to making Maine's communities a better place to live, including improving how patients receive and experience their healthcare services.
Dr. Johnson, who joined Onpoint's board last year, recently sat down with Chad MacLeod, Client Services Associate, to discuss her role with the MMC PHO, insights into the key components of a successful accountable care strategy, and her new responsibility as Onpoint's Board Chair. Highlights from their conversation follow.
How does the MMC Physician-Hospital Organization fit into the larger accountable care strategy of its parent organization, MaineHealth?
The MMC PHO is a nonprofit organization with more than 1,400 physician members from the Community Physicians of Maine, who partner with MaineHealth member hospitals—from its northernmost member, Franklin Memorial Hospital (Farmington, Maine), to its southernmost, Southern Maine Health Care (Biddeford, Maine)— to deliver high quality, cost-effective healthcare to the communities that they serve. By participating in CMS's MSSP, the MMC PHO is transitioning its health services delivery model to an accountable care structure, becoming MaineHealth's designated Accountable Care Organization (ACO)—the largest ACO model in the state of Maine, and one of the largest in the country —with a focus on Southern Maine and select New Hampshire communities.
By becoming an ACO and collaborating with similar models in the state and across the country, Dr. Johnson notes that the MMC PHO is joining the effort to shift "the widespread volume-based payment system to one that is instead driven by the value of care that patients receive." As Dr. Johnson comments, making this transition a reality will require staying true to the Institute for Healthcare Improvement's Triple Aim dimensions: (1) improving the patient's experience of care, (2) improving the health of populations, and (3) reducing the per-capita cost of healthcare. To meet these goals, the MMC PHO has devised a four-point strategy for its ACO: (1) Transition its primary care practices to a patient-centered medical home model, (2) ensure efficient distribution of system wide care coordination resources, (3) aggregate near-real-time claims and select electronic medical record information to improve information available to clinicians at the point of care, and (4) reduce unwarranted variation in care by enhancing transparency and support services.
By taking responsibility for the quality of care that the MMC PHO's ACO provides its patients, specifically by "formulating value-based provider contracts that will be designed in partnership with MaineHealth," Dr. Johnson says the organization's ACO model will be able to realize shared savings and improve healthcare for the communities it serves.
How has the concept of accountable care evolved over the past few years, and what role will it continue to play in the future?
For the MMC PHO, the concept of accountable care has evolved considerably since the inception of the Affordable Care Act (ACA) of 2010. After entering into agreement with CMS to participate in its MSSP, the MMC PHO became MaineHealth's designated ACO as a way to extend its value-based, MSSP contract model to the organization's entire network of providers and the commercial payers with which it partners.
In a broader context, Dr. Johnson suggests that, "once the state of Maine, and the country as a whole, identifies a solution to effectively adopt a risk-based payment system — one founded on a patient-centered, value-based, and triple aim-focused design — we will begin to drive transformative change even faster." Dr. Johnson adds that, since the MMC PHO has the critical combination of resources required to make this shift — experienced staff, technology, and data — the organization is in a unique position to lead the way in generating these new kinds of payment models.
What are the key data and analytic resources that you will rely on most as you continue to drive ACO strategies in the state of Maine?
According to Dr. Johnson, data management and analytics are foundational keys to the success of the MMC PHO's ACO model. "It is impossible to drive a significant amount of change unless these models derive accurate, reliable, and timely data — the kind of data that health systems and providers can collectively trust," she says. "Our mission — namely, to support the member physicians and hospitals in the delivery of value-based, integrated healthcare that is patient centered — depends on building a partnership with both payers and providers in order to marry both claims and clinical data into reports that are meaningful to people and excite them to drive change."
Dr. Johnson points to financial information as the primary historical source of data that health systems and providers have relied on to drive transformation across communities' healthcare settings. However, as times change, so does the understanding of the types of data most informative in evaluating effective accountable care strategies. Since the ACA's inception, and the subsequent development of initiatives related to ACOs, "there's been much needed discussion around identifying a basic set of metrics for quality and patient experience outcomes. That's because, in order to truly improve in healthcare, you have to first understand those two incredibly important components," Dr. Johnson notes. "Look at specialty care, for example. That's a whole new frontier for us to explore in terms of generating quality and patient experience metrics. And it's a fun and lively discussion because we are right at the tip of the iceberg in terms of understanding how to measure these types of outcomes that, before now, haven't really been used to drive improvement in care delivery."
As Onpoint's new Board Chair, what role would you like the organization to play in the health data and analytics market?
"We can't move to value —and produce value — without accurate, reliable, and timely data. In my role with Onpoint, I see the need to continue to promote and enhance the data management and analytic skills that we can provide to healthcare organizations as they continue to figure out what it means to deliver 'accountable care.' As we refine that very definition, data will surely be a driver of the discussion and informed change. And Onpoint, I believe, is perfectly poised to help deliver the data and analytics that we can use to support and advance accountable care strategies."
Continue Exploring:
New Dartmouth Pediatric Study Leverages Multi-State All-Payer Claims Databases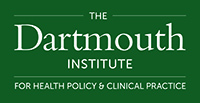 The Dartmouth Institute for Health Policy & Clinical Practice recently completed a follow-on study to its 2013 Dartmouth Atlas of Children's Health Care in Northern New England. The new report focuses on children with medical complexity (CMC) — those with medical fragility and intensive care needs due to life-altering chronic illnesses, severe neurologic conditions that impair their activities, and/or technology dependencies for daily activities. Recognizing that CMC represent a very small percentage of the overall pediatric population but account for a large proportion of pediatric healthcare utilization and costs, Dartmouth Institute researchers focused on identifying, characterizing, and examining their patterns of care in northern New England.
This retrospective, observational study, which will appear in the upcoming November 1 issue of Pediatrics, is based on 2007-2010 data from the statewide all-payer claims databases of Maine, New Hampshire, and Vermont, which were integrated and enhanced with HEDIS measures by Onpoint Health Data in support of Dartmouth's Pediatric Atlas.
Findings of the new follow-on study suggest that where children received their care – at an academic children's hospital versus a regional hospital, for example – strongly influenced the type and quantity of care provided, even after controlling for a number of patient characteristics, including differences in age, diagnoses, and other factors. For example, children cared for by one children's hospital spent almost twice as many days in the intensive care unit compared to a similar children's hospital in a different city. The use of imaging, other diagnostic tests, electrocardiography, and head MRIs also varied significantly across hospitals.
The study is "the first analysis that [the Dartmouth Institute] know[s] of to examine between-center variation in the care for children with medical complexity" and was designed to potentially help specialized children's hospitals better evaluate resource management of this high-utilization, high-cost CMC population. The authors mention, for example, the possibility of transitioning the locus of care for the CMC population to community hospitals, which tended to offer lower-cost treatments, possibly yielding further cost savings.
According to the Dartmouth Institute researchers, the study highlights the need for further identifying best practices for this apparently growing patient population in order to identify opportunities for additional quality improvements and cost reductions in their care.
Continue Exploring:
Using HealthPartners' TCOC Measurement System to Drive Insightful Analysis

Health transformation initiatives across the country are working hard to reverse many of the key drivers of healthcare spending by identifying areas of overuse and inefficiency. One key step in this effort is calculating a patient's total cost of care and resource use, illuminating possible waste as well as potential cost-saving opportunities. While some total cost of care measures simply sum a patient's payments and stop there, others use a much more advanced formula to dig deeper for more insightful analysis. Leading this latter breed is HealthPartners' Total Cost of Care (TCOC) and Resource Use framework — a full-population, person-centered measurement tool designed to address and support researchers' efforts to understand and slow the growth of healthcare spending.
Onpoint has calculated HealthPartners' TCOC and Resource Use measures for multiple projects, providing comparative reporting across states, providers, and practices. Our expanding work with the HealthPartners' software kicked off several years ago when our team undertook the first multi-state integration of all-payer claims databases, bringing together commercial, Medicaid, and Medicare data for Maine, New Hampshire, and Vermont. This expansive data source served as the basis for our Tri-State Variation in Health Services Utilization & Expenditures in Northern New England study.
Following the report's release, the Dartmouth Institute selected us as their data and analytic partner for two nationally recognized studies: The Dartmouth Atlas of Children's Health Care in Northern New England and a multi-state analysis of HealthPartners' TCOC measures through a distributed data model. In each case, Onpoint was responsible for the mapping and data normalization work required to support measures generation across multiple states with different collection rules and data standards and for generating the measures themselves — HEDIS-based quality measures for the Dartmouth Atlas and all measures for the TCOC demonstration and all.
Onpoint has also applied the HealthPartners' TCOC software to Vermont's statewide commercial, Medicaid, and Medicare data in support of the Blueprint for Health advanced primary care program. We regularly produce scatter grams, for example, that demonstrate the positive correlation between risk-adjusted expenditures and risk-adjusted frequencies and intensities of services utilized for Blueprint's participating practices. These graphics, which illustrate where practices fall along the high/low cost and utilization ranges, enabling comparative analyses at multiple levels, are being used by Vermont leaders in their efforts to develop an area-based payment model.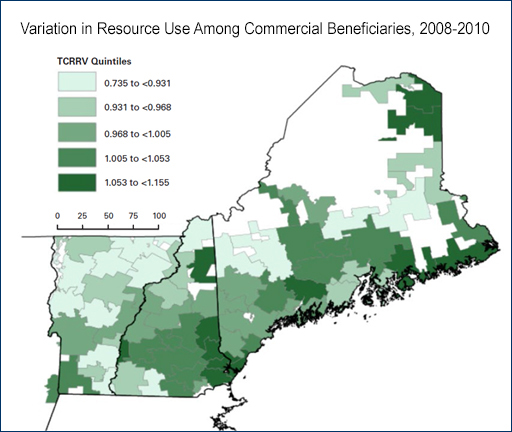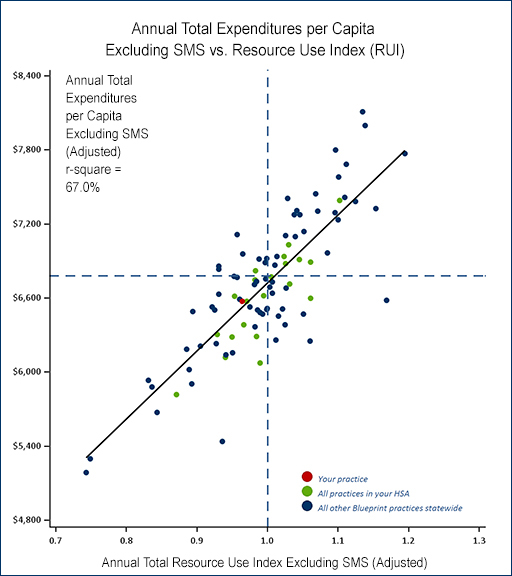 Continue Exploring:
Join Us at NAHDO's 30th Anniversary Meeting
This week, Onpoint's staff will be heading to the annual conference of the National Association of Health Data Organizations (NAHDO) to join the conversation around the evolving information needs of data consumers and the technical improvements and solutions required to support them. This year's 30th anniversary meeting will reflect on NAHDO's past accomplishments and consider the future of the organization as well as the implications of recent innovations in healthcare database resources, with specific focus on the all-payer claims database (APCD).
Onpoint is proud to help support NAHDO as a sponsor and exhibitor at this year's event in Washington, DC, where industry leaders – from the federal, state, and private sectors – will gather to discuss topics focused on innovative healthcare data collection and reporting. At this year's meeting, Pat Jones, Health Care Project Director for Vermont's Green Mountain Care Board, will be joined by Onpoint's Health Services Researcher Amy Kinner, MS, as part of a panel presentation exploring how new technologies are driving system transformation. Jones and Kinner will discuss how unifying performance measurement across an entire population through the intersection of Vermont's two critical healthcare reform initiatives – the Blueprint for Health medical home program and the state's three Accountable Care Organizations participating in Medicare, Medicaid, and/or commercial Shared Savings Programs – will effectively advance the state's care delivery transformation.
We look forward to connecting with colleagues from around the country to explore their new activities, discuss the latest developments in healthcare transformation, and learn more about NAHDO's important work.
Continue Exploring: