Onpoint News – March 2015
1. Onpoint, Milbank, and the Blueprint Team Up for a Panel Presentation at Maine QC 2015

2. Evaluations of Advanced Primary Care Programs Provide Mixed Results

3. Minnesota's APCD Workgroup Recommends Actions to Expand Overall Use of Program

4. A New Manual for States Interested in Developing APCDs Aims for Greater Healthcare Price Transparency

5. King v. Burwell: Understanding the Fate of the Nation's Health Insurance Marketplace

6. The Blueprint and Onpoint's APCD Council Webinar Presentation Now Available Online
Onpoint, Milbank, and the Blueprint Team Up for a Panel Presentation at
Maine QC 2015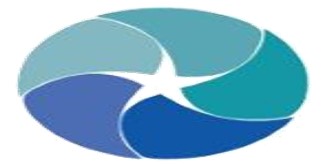 Onpoint team members recently joined Lisa Dulsky Watkins, MD, of the Milbank Memorial Fund and Jenney Samuelson, MS, of the Vermont Blueprint for Health to host a breakout session on "Primary Care Transformation: Lessons from Across the Nation" at this year's Maine Quality Counts Conference.

Panelists offered a high-level national perspective on primary care transformation programs and explored in detail how Vermont's nationally recognized Multi-payer Advanced Primary Care Practice (MAPCP) demonstration, the Blueprint for Health, is linking integrated claims data (commercial, Medicaid, and Medicare) from the state's all-payer claims database (APCD) with clinical data from the state's practice registry to generate a series of risk-adjusted metrics that give providers and Hospital Service Areas (HSAs) across Vermont new insights into their healthcare delivery.

Dr. Dulsky Watkins concluded the panel presentation by moderating a discussion and open question-and-answer session with Quality Counts participants. Panelists and QC participants discussed together how current initiatives at the practice level can help reverse some of the key drivers of spending growth and poor health/healthcare quality, and how meaningful data can be accessed and interpreted to drive transformative, sustainable changes in healthcare systems across local communities.

Evaluations of Advanced Primary Care Programs Provide Mixed Results
The U.S. Centers for Medicare & Medicaid Services (CMS) recently announced first-year findings from two of its Innovation Center's programs: the Comprehensive Primary Care (CPC) initiative and the Multi-payer Primary Care Practice (MAPCP) demonstration. These projects are part of CMS's broader efforts to improve the delivery of care, the health of the overall population, and the cost of healthcare across the country by promoting care coordination and management.

The CPC initiative is a multi-payer partnership between Medicare, Medicaid, and private payers and primary care practices. There are currently a total of seven CPC participants operating in four states (Arkansas, Colorado, New Jersey, and Oregon) and three regions (New York's Hudson Valley region, Ohio-Kentucky's Cincinnati-Dayton region, and Oklahoma's Greater Tulsa region). As a whole, the initiative currently comprises 492 practice sites with 2,158 participating providers that serve approximately 2.5 million patients.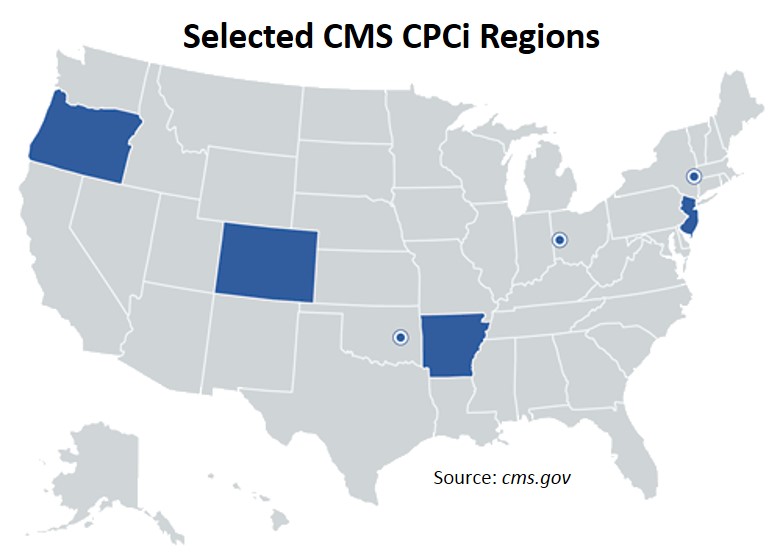 Although CMS's first annual CPC report cautions that "practices vary considerably in their progress on implementing the components of CPC," findings to date suggest that the initiative has seen the greatest overall transformation in hospital readmission rates (2% decrease) and emergency department visits (3% decrease), while generating the bulk of its total savings from patients in the highest-risk quartile.
According to Dr. Patrick Conway, Deputy Administrator for Innovation and Quality and CMS Chief Medical Officer, the CPC evaluation demonstrates that the initiative has "generated nearly enough savings in Medicare healthcare expenditures to offset care management fees paid by CMS." Nonetheless, he advises researchers and stakeholders alike that additional time, resources, and research are needed in order to view a clearer picture of the total effect that the CPC initiative is having on its primary care practice sites.

The MAPCP demonstration is also a multi-payer collaboration between Medicare, Medicaid, and private payers and primary care practices. However, while the CPC initiative's service delivery and payment models have been defined by the Innovation Center at CMS, the MAPCP demonstration's models have been defined individually by the states participating in the program, with each MAPCP demonstration designing its own approach to multi-payer participation. This freedom, along with a number of other factors (e.g., the specific details of the service delivery and payment models, the size of the programs, the enrollment processes of the practices involved) help to differentiate the two multi-payer, advanced primary care programs.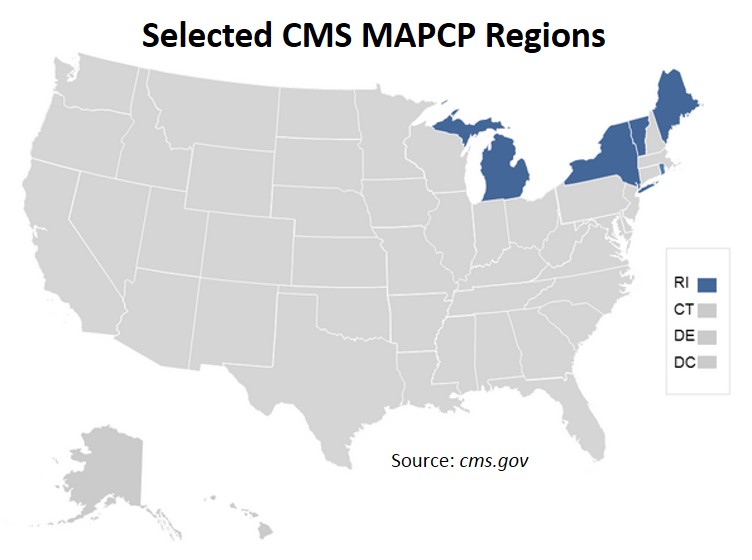 While eight states (Maine, Michigan, Minnesota, New York, North Carolina, Pennsylvania. Rhode Island, and Vermont) were initially selected for the MAPCP demonstration, only five — Maine, Michigan, New York, Rhode Island, and Vermont — have elected to continue participation in the demonstration through 2016. At the end of the demonstration's first year of operation, there were more than 700 participating practice sites with 3,800 providers serving approximately 2.6 million patients.

While MAPCP programs in two states, Vermont and Michigan, have noted a reduction in the growth of Medicare spending, there so far is little evidence to suggest that the program is improving cost, utilization, or quality of care among the other MAPCP programs. However, the first annual MAPCP report posits that the limited evidence of the demonstration's beneficial outcomes may simply be due to the challenges that some participating states have experienced in collecting and using the data derived from their programs.
Despite CMS's as-yet-inconclusive evaluation of its MAPCP demonstration, a study by the Patient-Centered Primary Care Collaborative (PCPCC) with the Milbank Memorial Fund, published in the same general timeframe as CMS released its first annual reports, indicates that the patient-centered medical home (PCMH) model — like the ones built by participating states under the MAPCP demonstration — is actually tied to a number of "impressive and growing trends."

The study, "The Patient-Centered Medical Home's Impact on Cost and Quality," reviewed 28 published PCMH evaluations, including peer-reviewed literature, state PCMH program evaluations, and industry reports published between September 2013 and November 2014. It reports that the PCMH model has been found to reduce healthcare costs and unnecessary utilization of services, improve population health and preventive services, increase access to primary care, and create satisfaction among patients and clinicians.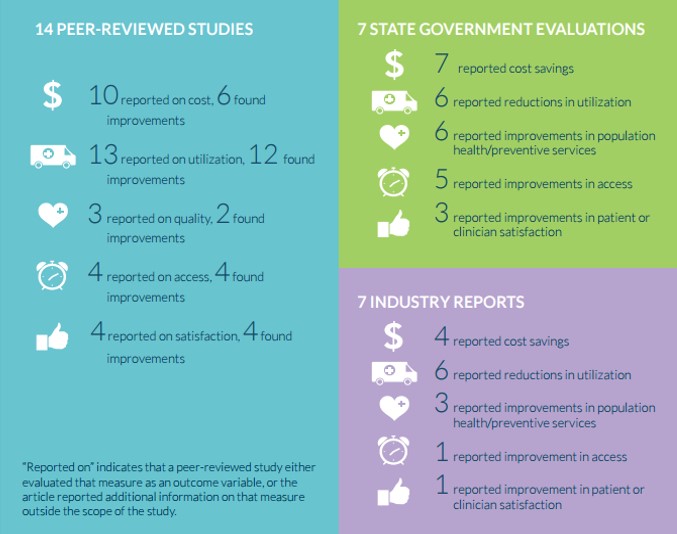 Of the 28 published PCMH evaluations:
86% found the PCMH model reduced unnecessary utilization of services
39% found the PCMH model reduced population health and preventive services
36% found the PCMH model improved access to primary care
29% found the PCMH model increased satisfaction among patients and clinicians
Conclusions from the PCPCC review and CMS evaluation suggest that sustained streams of funding for advanced primary care — and, specifically, the PCMH model — can play a valuable role in giving participating practices enough time and resources both to "deepen and refine their methods of delivering advanced primary care" and to sufficiently collect and use the data derived from their programs. By doing so, future evaluations may be better able to judge the effectiveness of the programs in reaching complete multi-payer, primary care delivery transformation.

Minnesota's APCD Workgroup Recommends Actions to Expand Overall Use of Program
The Minnesota Department of Health (MDH), directed by the state's All-Payer Claims Database (APCD) Workgroup, recently published a report to the Minnesota Legislature containing a summary of recommendations to develop a framework for expanded uses of the Minnesota all-payer claims database (MN APCD), also known as the Minnesota Health Care Claims Reporting System (MHCCRS). The report, which represents the opinions of a wide variety of stakeholders, including healthcare professionals with extensive knowledge of Minnesota's health systems, was the APCD Workgroup's response to several questions from the Legislature regarding the future functionality of the MN APCD.

The MN APCD was created by the state's Legislature in 2008 and has been developed and operated by Onpoint since 2009. The program was designed specifically to support the state's Provider Peer Grouping (PPG)
initiative and its efforts to "increase transparency about value in purchasing by publishing reports on health care cost and quality in Minnesota hospitals and clinics." While the PPG initiative was suspended last year, the Legislature expanded the authority for the MDH to use the MN APCD for a select number of additional projects, including studying variation in cost, quality, utilization and disease burden; evaluating the healthcare home program and the State Innovation Model initiative; leading a study of chronic pain management services; conducting analyses with partners on preventable readmissions; and exploring the feasibility of using the data for state-based risk adjustment. It was this 2014 legislation that also required the Commissioner of Health to convene the APCD Workgroup to make recommendations for further uses.

With consensus that the MN APCD is "an important, publicly funded resource that can help Minnesota move towards achieving the Triple Aim" — (1) improving the patient's experience of care, (2) improving the health of populations, and (3) reducing the per-capita cost of healthcare — the APCD Workgroup's report recommends that the Legislature move iteratively, initially by expanding the use of the APCD by creating public-use files and summary tables. (These files would not require any additional permissions or approval processes.)

To move beyond these additional first steps, the APCD Workgroup suggests establishing two guiding teams to maximize the utility of the MN APCD: (1) a broad governing body to handle policymaking and data use requests and (2) a technical group to contribute specialized expertise about the database. As "new health care strategies, analytic technologies, and service models emerge," these bodies could guide the MN APCD down various innovative analytic avenues — supporting longitudinal studies, integrating behavioral health data with physical health claims data, etc. — to foster insight regarding variations and disparities in care, measure quality of care, and inform price transparency and other initiatives.

The next legislative milestone for the MN APCD will be when the MDH provides a series of reports analyzing the APCD data and examining aspects of data quality.

To read the APCD Workgroup's report, please click here.





A New Manual for States Interested in Developing APCDs Aims for Greater Healthcare Price Transparency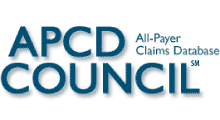 The APCD Council, with support from the Gary and Mary West Health Policy Center, has developed a manual for states interested in developing all-payer claims databases (APCDs). The manual, which provides an overview of APCD implementations across the country, offers a valuable resource for other states interested in filling critical information gaps, improving healthcare price and quality transparency initiatives, and providing actionable information
for stakeholders.

The manual includes a detailed review of data collection, aggregation, and analysis standards commonly involved in establishing an APCD. It also offers a framework outlining five major aspects of APCD development: (1) engagement, (2) governance, (3) funding, (4) technical build, and (5) analysis and application development. Critical components of each area include:
Engagement: Carefully defining the purpose and rationale behind creating an APCD – why it is needed, what it is seeking to accomplish, etc. – through an intensive stakeholder engagement process
Governance: Creating a comprehensive governance structure, specific to each state's intended use of data, political environment, and oversight plan, that can effectively provide a clear set of legislation, rules, regulations, and policies to drive overall functionality
Funding: Keeping in mind all aspects of the APCD system's development and operation phases and leveraging diversifying revenue sources to safeguard long-term sustainability
Technical Build: Strategically defining the collected data elements (often guided by vendors) to ensure uniform data submissions and formats across payers, which in turn allows for unparalleled comparability across states and other APCD systems
Analysis & Application Development: Addressing the intended analytic scope and reporting priorities of the APCD system during development phases to establish the overall solution parameters, including value and sustainability

"Time and time again, we've seen the need for clearer information to allow for informed healthcare decision making," notes Jo Porter, MPH, deputy director for the Institute for Health Policy and Practice at the University of New Hampshire and co-chair of the APCD Council. "We are excited for new states to develop these databases through this easy-to-use manual, which puts both learnings from the council and many years of working with states on APCD development into one place."

To download a copy of the new manual, click here.

The APCD Council also recently hosted a webinar to provide an overview of its APCD Development Manual. If you would like to watch a recording of the webinar, please click here.
King V. Burwell: Understanding the Fate of the Nation's Health Insurance Marketplace
Last November, the Supreme Court agreed to take up a case with potentially far-reaching ramifications for the future of the nation's widely watched health insurance exchanges (HIXs). While the issue at hand — whether the promised tax credits for policies purchased by individuals through the HIXs apply to both state-run and federally operated exchanges — may seem slightly arcane, it may ultimately decide the entire future of the 2010 U.S. Patient Protection and Affordable Care Act (ACA), including its HIX experiment. (Paradoxically, a recent poll conducted by the Kaiser Family Foundation finds that more than half of the U.S. public "continues to say they have heard only a little or nothing at all about the case.")

Oral arguments for the case, King v. Burwell, were heard earlier this month, and should help inform a decision expected by late June or early July. According to a number of sources, including the Hill, "predicting the outcome of a Supreme Court decision based upon questions asked at oral argument (and the responses to those questions) is a hazardous undertaking."

King v. Burwell is actually the most prominent of four similar cases — two (Halbig v. Burwell and Pruitt v. Burwell) put on hold while the Supreme Court makes its decision and one (Indiana v. IRS) awaiting a district court ruling following arguments last October. The U.S. Department of Health & Human Services argues that the ACA's provision for tax credits extends to the federally operated HIXs, while the plaintiffs contend that they are limited to the state-run exchanges. If the court sides with the plaintiffs, the impact on the nation's HIXs —regardless of who controls them — could be profound, altering the face of our nation's healthcare insurance marketplace.

Subsidized private insurance, which is the point of contention in King v. Burwell, offers tax credits — often worth hundreds of dollars per month — to people who are unable to secure coverage through their job, Medicaid, or Medicare. People can qualify for these payments if they earn up to four times the federal poverty level. That means, for example, that an individual making up to $46,500 per year, or a family of four earning $95,000 per year, in this population bracket could receive support.
Timothy Jost, a health law professor at the Washington and
Lee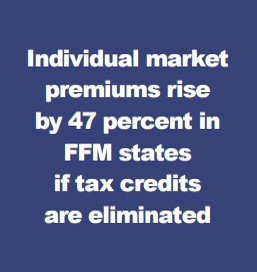 University School of Law, has written that if the plaintiffs succeed and subsidies are found to be limited to policies purchased on state-run exchanges, approximately five million Americans covered under federally operated HIXs could lose their tax credits. If this happens, some say that the ACA's individual mandate — the economic foundation of the bill that requires most of the uninsured U.S. public to purchase insurance or face a tax penalty — might become obsolete. If people are refused tax credits to support the costs of their health insurance, they may be more likely to qualify for an exemption from the mandate, ultimately undermining the authority of the ACA. After all, according to a brief by the RAND Corporation, eliminating subsidies in states with federally facilitated marketplaces would cause premiums
in those states' individual markets to rise by 47% and enrollment
to fall by 70%.

In light of these discussions, supporters of the plaintiffs have put an optimistic spin on this potential series of events. They argue that if subsidies from federally operated exchanges are abolished as a result of King v. Burwell, it could actually spur development efforts by the 34 states that have not yet established state-run exchanges. If this were to happen, individuals purchasing health plans would still be able to qualify for tax credit support.

The Supreme Court hearing earlier this month featured an equal mix of oral arguments on the principles of statutory construction (i.e., the plain language versus the congressional intent of the ACA) and the potential consequences if the plaintiffs' position prevails. However, it was this latter set of arguments that received the most critical reactions from the justices interested in understanding the real-world implications if the Supreme Court were to rule in favor of slashing tax credits for federally operated HIXs. Justice Kennedy, for example, who is being eyed as a swing vote for the government's position, expressed concern that if the plaintiffs' argument is accepted, "the States are being told either create your own Exchange, or we'll send your insurance market into a death spiral."

Whichever way the Supreme Court rules, we don't have much longer to wait to find out the fate of the ACA and our nation's health insurance marketplace. Until their decision is announced in the coming months, learn more about this important case by visiting the Commonwealth Fund's resource page on King v. Burwell.

The Blueprint and Onpoint's APCD Council Webinar Presentation
Now Available Online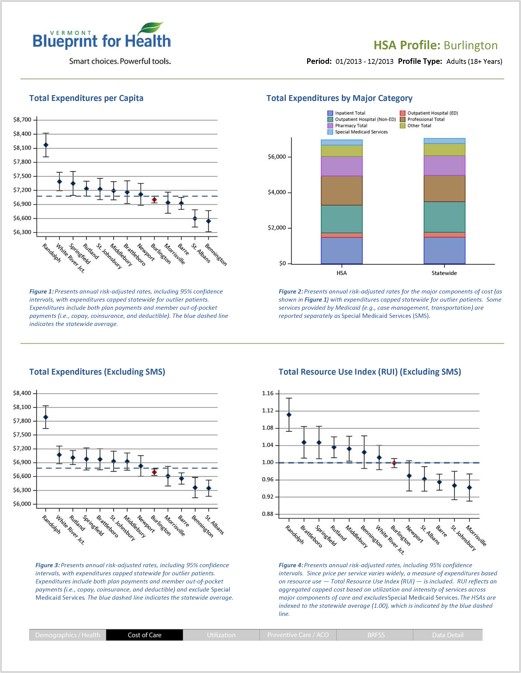 Earlier this month, Onpoint collaborated with the Vermont Blueprint for Health to host a presentation for the APCD Council's webinar series on "Innovative Uses of APCDs." The webinar also featured a presentation of the newly released Colorado Price Compare Data Showcase by Colorado's Center for Improving Value in Health Care (CIVHC).
Our presentation with the Blueprint, "Profiling to Drive Transformation: Leveraging Linked Claims & Clinical Data Sources," offered a close look at Vermont's innovative health service model, focusing on the methods, measures, and visualization techniques used to develop Blueprint's practice- and community-level profiles. Presenters discussed the Blueprint's experience with linking integrated claims data (commercial, Medicare, and Medicaid) from Vermont's APCD with clinical data from the state's practice registry, how this linkage allows the program to generate a series of risk-adjusted metrics that highlight trends in healthcare delivery across more than 120 adult and pediatric practices and 13 Hospital Services Areas (HSAs), and lessons learned along the way.

A big thank you to the APCD Council, the Blueprint, CIVHC, and all 200-plus attendees who made our first webinar partnership a success!

To view a recording of our webinar, click here.

To browse our PowerPoint presentation, click here.

If you have any questions regarding the material in our webinar presentation, please feel free to send us a message at generalinfo@onpointhealthdata.org.
Recent Onpoint Newsletters