RI's APCD Used to Examine Treatment for Opioid Use Disorder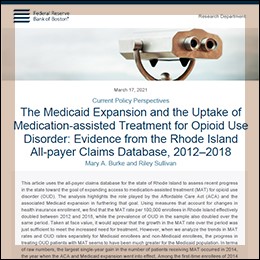 April 2021 – A new report from the Federal Reserve Bank of Boston examines Rhode Island's efforts to combat the opioid crisis, using data from the state's APCD to study the roll-out of medication-assisted treatment (MAT) in recent years.
The report finds that Rhode Island's increased use of MAT to combat opioid use disorder (OUD) coincided with the state's 2014 expansion of access to Medicaid services following the passage of the Affordable Care Act. "Throughout the study's 2012–2018 observation period, the MAT rate was at least 4.6 times greater among Medicaid enrollees than among non-Medicaid enrollees, and it peaked at more than six times greater in 2015," notes the Boston Fed in a press release.
This new study follows similar work in Vermont, which has actively used its APCD data to examine the impact of MAT on opioid use disorder via the Vermont Blueprint for Health's Hub & Spoke initiative.
To learn more: The Boston Fed's press release and full report (Mar. 2021) | "Vermont Blueprint's Hub & Spoke Program Transforms Opioid Addiction Treatment" (May 2017)