Onpoint Board Member Profile: Anneliese Gerland, MBA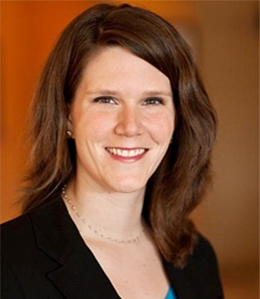 February 2020 – Onpoint's Board of Directors plays an integral role in establishing and maintaining our mission and vision and in guiding our strategic direction. Anneliese Gerland, MBA, Vice President of Practice and Segment Operations at the Chartis Group, a national healthcare advisory and analytics firm, and an Onpoint board member, has provided valuable leadership in Onpoint's strategic planning efforts. She brings many years' experience in health services research and analytics and a data-driven perspective to business issues, which makes her a natural fit on the board of a data and analytics organization.
Ms. Gerland's career and interest in healthcare began in the public sector, where she worked for an international non-governmental organization evaluating public health programs overseas. Following this experience, Ms. Gerland transitioned to focusing on healthcare delivery in the United States, conducting research on the local community impact of state and federal policy.
Following her work in the public sector, Ms. Gerland shifted to the private sector as a consultant with the Chartis Group. Chartis is based in Chicago, Illinois, and has a national consulting practice in strategic planning and performance improvement services for healthcare organizations. In Ms. Gerland's current management role at the company, she is responsible for spearheading the firm's efforts to help clients transform performance and meaningfully advance their organizational position and capabilities. In addition to her client delivery focus, Ms. Gerland has helped lead the company through a period of rapid growth, expanding from 50 to 400 employees in the last 10 years.
Throughout her career, Ms. Gerland's core interest has been drawing insights from data in order to inform high-level decisions. Onpoint is fortunate to have a Board member whose interests and vision align so closely with Onpoint's mission: Delivering reliable data and insightful analytics to support healthcare transformation. "It's been great getting to know Onpoint and learning about their core business in the claims data integration and analytics space," Ms. Gerland notes. "What I find most exciting about my work on the Board is learning how different organizations put data to use. It has been great to see Onpoint continue to deepen its current capabilities while building emerging ones in order to deliver increasing value to customers and their stakeholders."