Suanne Singer, Former Onpoint President, Recognized for Leading the Development of APCDs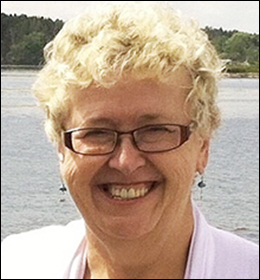 September 2020 – For the past 30 years, the National Association of Health Data Organizations (NAHDO) has presented its Elliot M. Stone "Award of Excellence in Health Leadership" to "individuals who represent the highest ideals in data collection, analysis, or outcomes measurement and whose creative efforts have made outstanding contributions to improvements in the collection, application, and/or dissemination of health data."
This year, NAHDO recognized the transformative work of Suanne Singer, the former president of Onpoint, who pioneered the development of an all-payer claims database (APCD) more than 20 years ago.
Singer worked collaboratively with state government in creating the nation's first APCD – bringing together commercial, Medicaid, and Medicare claims data – for the state of Maine in 2002.
She was recognized by NAHDO along with this year's co-awardee, Al Prysunka, former director of the Maine Health Data Organization, for their partnership in building Maine's APCD. Singer and her team at Onpoint (then called the Maine Health Information Center) brought the technical skill and vision for an all-payer database, building on what they had created for a statewide purchaser coalition in the 1990s for commercial claims data. Prysunka marshaled the support of key stakeholders within and outside government to pass legislation, and the two worked together on the regulatory framework, including the collection and release rules.
As NAHDO notes, "they collaborated with various stakeholders to find the common ground and worked tirelessly to overcome the political and technical impediments. They set the framework for both what to collect in an APCD and how to build one."
Her work, long recognized for its insight and creativity, is matched by the respect of her former staff and colleagues. "Suanne's leadership paved the way for an industry that has never been more important," notes her successor, Onpoint President and CEO Jim Harrison. "She brought together the technical vision, a can-do attitude, and the persistence needed to build what has become an essential resource for states and regional health improvement collaboratives across the country. The COVID-19 pandemic has illuminated the value of and need for a statewide, full-population healthcare database to understand what is happening in healthcare and to support planning efforts."
Ms. Singer's leadership of the organization spanned more than 35 years and included the development of innovative solutions across the full array of healthcare data systems. Starting her career as a systems analyst, she supported the development of a wide array of innovative data integration and reporting solutions – from hospital discharge and survey data systems to claims and clinical data systems. She also served as project lead during the development of Maine's statewide health data interoperability initiative, HealthInfoNet, which now serves as the state's health information exchange.
Congratulations to both Ms. Singer and Mr. Prysunka for being recognized this year by NAHDO.
Below, Suanne Singer stands with this year's NAHDO award, a Maine-made bell in the shape of a lighthouse, a symbol of both awardees' guiding work in the APCD industry and of their work in Maine, home of 65 lighthouses. Lighthouses "symbolize the way forward and help in navigating our way through rough waters," observed award presenter Karynlee Harrington, Executive Director of the Maine Quality Forum and Maine Health Data Organization. "Like the lighthouse, Suanne and Al's leadership provided a path through the haze of developing and maintaining an APCD. Their contributions have stood the test of time and continue to light the way for many of us as we navigate through the challenges and the new opportunities of healthcare data collection and data use."