Washington State Releases Interactive Population Health Reporting
July 2019 – The Washington All-Payer Health Care Claims Database (WA-APCD), developed on behalf of the State in 2018 by Onpoint Health Data and the Center for Health Systems Effectiveness (CHSE) at Oregon Health & Science University (OHSU), includes longitudinal claims data for more than 6.4 million Washingtonians, or nearly 85% of the population.
This data already has enabled extensive analysis and reporting by a broad base of researchers and analysts, including the recent launch of the Washington HealthCareCompare consumer transparency website that allows users to compare pricing and quality across providers and regions in the State and a more recent release of interactive population health reporting by the Washington State Office of Financial Management (OFM).
These WA-APCD health measures dashboards offer the general public the opportunity to explore healthcare trends in Washington using a dynamic tool that allows for filtering, drill-down, and examination of the data. The current suite of reports includes a comparison of statewide and Accountable Communities of Health (ACHs) performance on Healthcare Effectiveness Data and Information Set (HEDIS) measures (including prevention, overuse, and utilization) and a summary of the prevalence of chronic conditions and their associated costs across Washington state. The reports also employ linkage of claims data to socioeconomic data, enabling analysis of the relationships between healthcare access, utilization, and prevention with socioeconomic characteristics, including employment status, race, and educational attainment.
This reporting is powered by Tableau and is based on claim-level detail using an optimized WA-APCD data set that allows quick, versatile use of Washington's commercial, Medicaid, and Medicare Advantage data. Users can easily drill into granular detail, such as comparing specific regions across a variety of metrics (E.G., cost, HEDIS measures, chronic conditions) – all while adhering to strict privacy and security standards. The publication of this reporting is yet another demonstration of the immense value of Washington's APCD.
Dashboard Preview 1. Washington State HEDIS Quality Measures (Claims Based)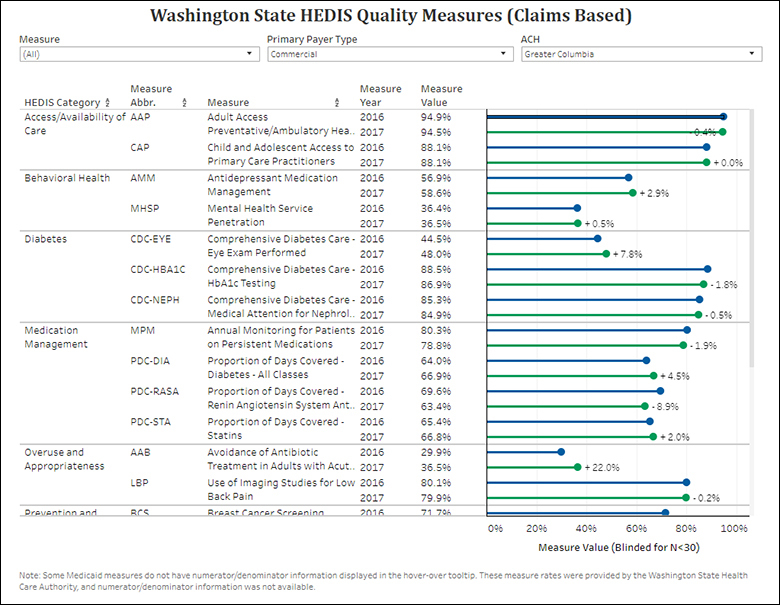 Dashboard Preview 2. Prevalence of Chronic Conditions in Washington State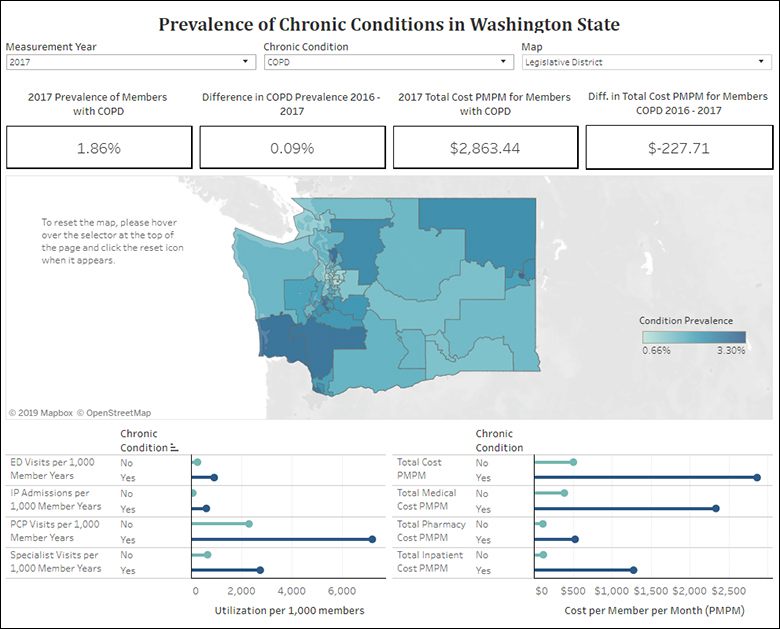 Dashboard Preview 3. Relationships Between Selected Measures & Socioeconomic Characteristics in Washington State (by ZIP Code)