Onpoint REVOlution Cycles Across Maine in Support of the American Lung Association

June 2018 -- Onpoint's cycling team – Onpoint REVOlution – celebrated Father's Day weekend this June by participating in the 2018 Trek Across Maine for their fourth-consecutive ride. The Trek, a three-day, 180-mile cycling event that traverses the state of Maine is the largest fundraiser of its kind in the nation for the American Lung Association (ALA). This year, participants enjoyed beautiful sunny weather as they rode from the mountains of Bethel to the sea in Belfast.
Over the past 34 years, the Trek has raised more than $24 million to support the ALA's efforts to save lives by improving lung health and preventing lung disease. This year, Onpoint had its largest team yet, with 15 staff - and their family and friends - cycling together. As a team, Onpoint REVOlution raised more than $10,000 for the ALA, contributing to the event's 2018 total of nearly $1.5 million.
The Onpoint REVOlution team would like to thank all our team's donors and supporters for their strong encouragement and motivation. We are already recruiting additional team members for next year to continue the tradition!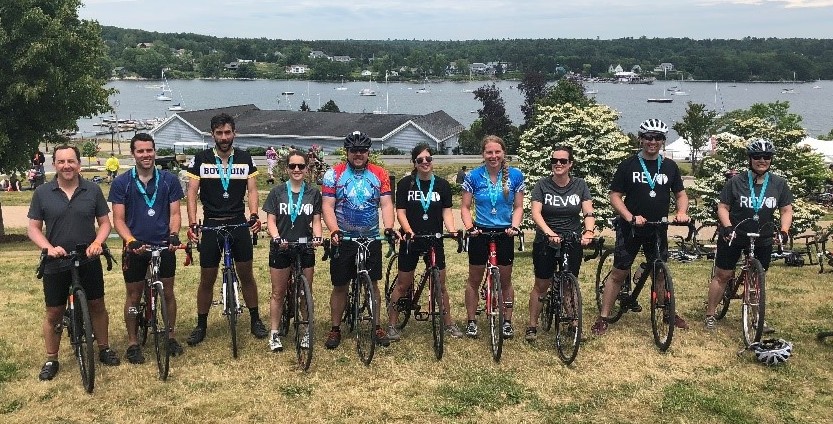 Pictured, from left to right: Jeff Boulet (Web Designer), Chad MacLeod (Product Manager), Sam Chick (Health Data Analyst), Katherine Lydon (Senior Health Data Analyst), Jeff Stoddard (Chief Information Officer), Katie Oberg (Health Data Analyst), Julie Blouin (Client Account Manager), Loretta Edes (Client Account Manager), David Jorgenson (Health Data Analyst), and Carolyne Conrad (Client Account Manager)