Introducing the Next Generation of Onpoint CDM

For nearly two decades, Onpoint Health Data has been building the databases that inform healthcare transformation initiatives across the country. Onpoint CDM (Claims Data Manager) is our proven and powerful suite of data integration, enrichment, and warehousing services. The system provides tools for secure submission, cleanses and standardizes incoming data, performs rigorous quality assurance review, and then aggregates, consolidates, and enhances the data to support analytics. Throughout, the system is overseen by dedicated quality assurance analysts and IT professionals to make sure that our clients' data is securely, efficiently, and reliably processed and delivered.
As markets evolve, new technologies arise, and health data becomes increasingly accessible and powerful, Onpoint has worked hard to make sure that our solutions and services keep pace. This summer, we will be releasing the next generation of the Onpoint CDM suite – an update that features the same reliable services that our clients and their submitters know and expect, supported by a platform that can scale more efficiently, integrate claims and non-claims data sources more quickly, and accommodate ever-expanding data volumes and complex use cases. Together, these enhancements will allow our clients and their submitters to track and monitor data submissions more easily and intuitively through a redesigned user interface backed by faster processing, more efficient data-quality review, dynamic submission reporting, variance management, and self-service tools and applications.
From our start, Onpoint's mission has been helping power healthcare transformation in the communities that we serve by providing trusted and insightful health data solutions. Our enhanced Onpoint CDM suite will allow us to continue to support this work and deliver leading solutions for our clients.
Preview 1. Concise and convenient dashboard analyses to help facilitate efficient review
Preview 2. Actionable reporting that provides up-to-date information on submission compliance, status, completeness, and validity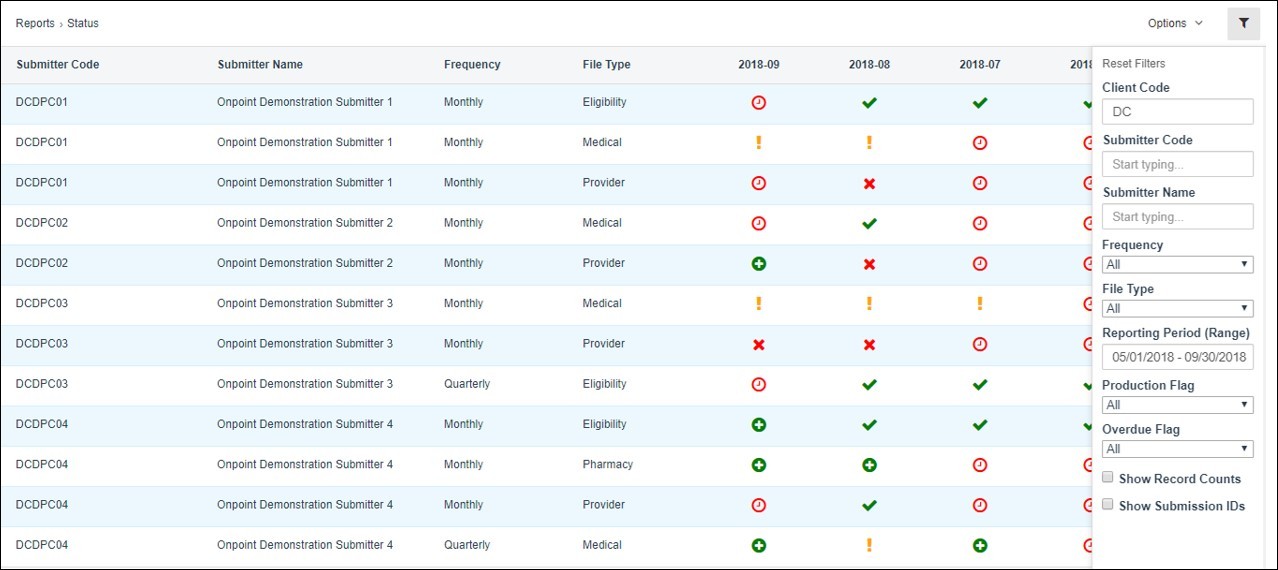 Preview 3. Interactive, self-service module that allows submissions to continue processing as variances for data that fail to meet quality validations are reviewed and approved