Washington HealthCareCompare Website Recognized Nationally with NAHDO Innovation Award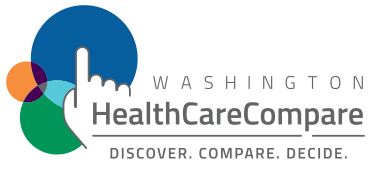 September 2018 -- The National Association of Health Data Organizations (NAHDO) announced this month that it has awarded its distinguished "Innovation in Data Dissemination Award" to the State of Washington for its Washington HealthCareCompare website (see Figures 1-2 below). Presented annually by the NAHDO Board of Directors since 2009, the award recognizes an organization's dedication to effectively communicating the complexity of health data to the broader public in a transparent and actionable manner. Recent recipients of the award have included Colorado's Center for Improving Value in Health Care (2013), Consumer Reports (2014), and the Maine Health Data Organization (2016).
"Through this award, NAHDO honors Washington State's commitment to bringing greater transparency to health care costs in the state and giving residents powerful tools to make data-driven, informed decisions that maximize health care quality and value," said the organization in their announcement.
The Washington HealthCareCompare website is one of many use cases being supported by the Washington All-Payer Health Care Claims Database (WA-APCD), which is overseen by Oregon Health & Science University and operated by Onpoint and includes longitudinal claims data for more than four million Washingtonians from 2013 forward. The consumer-focused website enables users to compare median prices and price ranges for more than 80 medical procedures and view estimated costs by facility. The site also includes the results of the statewide Common Measures Set, which is generated from claims and other data sources, encompassing individual quality measures summarized at several levels, including state, Accountable Communities of Health (ACHs), county, hospital, and primary care practice.
"Washington HealthCareCompare has helped the state take a big step forward in providing consumers with information to assist in making informed choices about health care," notes Thea Mounts, WA-APCD Program Director at Washington's Office of Financial Management.
At this year's annual NAHDO conference – October 10-12 in Park City, Utah – NAHDO will officially present the award to the WA-APCD project team. Additionally, Mounts will participate in a "Transparency & Public Reporting" panel alongside leaders from Colorado's CIVHC, CPA and consulting firm BerryDunn, and FAIR Health. During the panel session, Mounts will provide an overview of the WA-APCD program and the Washington HealthCareCompare website.
Figures 1-2. Using Washington HealthCareCompare to compare healthcare prices and quality